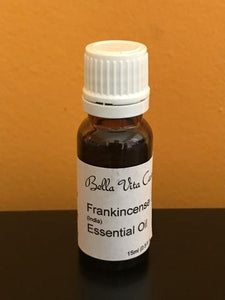 Bella Vita Cares
Frankincense Oil
Regular price
$22.00
$0.00
Share this Product
---
Frankincense Oil
Frankincense is an aromatic resin obtained from trees of the Boswellia, there are five main species of Boswellia that produce true frankincense, Sacra, Carterii, Frereana, Serrata, and Papyrifera. The word is from Old French franc encens meaning high quality incense. Frankincense has been traded on the Arabian Peninsula for over 6,000 years. It is mentioned numerous times in the bible and was used during ceremonies, meal offerings, and prayer. It was often associated with Myrrh and together with gold was offered to the infant Jesus by the three kings.
Country of Origin: India
Botanical Name: Boswellia Serrata
Parts Used: Resin
Extraction Method: Steam Distilled
Scent: Rich Woody, Earthy Scent, with a deeply mysterious nuance
Appearance: Colorless to pale yellow clear liquid
Physical State: Liquid
Natural: Yes
Purity: 100%
Frankincense oil has anti-inflammatory properties and can help relieve, congestion, headache, relax the respiratory tract and boost our immune system. It also can balance hormone levels, promote urination, aide in digestion, help PMS symptoms, and reduce pain even from arthritis. Frankincense has also been known to have calming and soothing properties and is perfect to use for stress, anxiety, meditation and acts as a sleep aide.
General: As with all essential oils, never use them undiluted, in eyes or mucus membranes. Do not take internally unless working with an expert practitioner that is qualified in clinical Aromatherapy. If being used during pregnancy please consult your doctor as well. Keep away from children. If applying an essential oil to your skin always perform a small patch test to an insensitive part of the body after you have properly diluted the oil in an appropriate carrier.
For educational purposes only
This information has not been evaluated by the Food and Drug Administration, this information is not intended to diagnose, treat, cure, or prevent any disease.
---
More from this collection